Our R&D team at your service.
Your partner in research and upscaling
Our R&D department is at your service. Use the experience from our mycologists, microbiologists and product engineers. We work on any of the following:
Each plant requires its own specific soil. Similarly, each fungus needs a different substrate. A good recipe contains the right range of nutrients to boost mycelial growth. Examples are liquid medium, agar plates, grain spawn and mushroom compost. How do you choose the recipe to suit your production system and your needs?
A good grain spawn recipe must have a crumbly texture. Why? To have it crumble into small fragments, each one becoming an inoculation point.
How to achieve this? It may sound simple, but it is not. We have been working on our grain spawn recipes for more than 30 years and the work is never done. Today's grain mixes are much more than just a random mix. They are extremely delicate mixes of grains and additives, typically containing 7 to 15 types of raw materials. Important: every recipe has its own needs in terms of volume and gas exchange. You will need to get the perfect breathing bag. But it so happens we can help you with that, too.
Solution 2: Keep an open mind
Don't believe grain spawn is the only solution to the problem. It is just the beginning. Depending on the species, liquid spawn and sawdust spawn are also used worldwide on a massive scale. And it does not stop there. At least hundreds of different recipes are being used professionally. 
At Mycelia, you can buy spawn of more than 100 species on more than 35 different recipes, which makes us quite unique in the world of spawn producers. But if we can do it, why couldn't you? Not sure if you're ready to take the leap? Then consider the following service: we can run large batches for you on our state-of-the-art equipment and set up a large trial in a real production environment. And don't worry, your secrets are safely shielded by an NDA.
How to design a suitable carrier?
If you're looking for new formulations and if you're interested to see how deep the rabbit hole goes, then welcome to the wondrous world of mycelium production. It is probably our planet's largest reservoir of untapped possibilities. In order to grow fungi, you will need to be inventive. Start by keeping all options open and work your way down from there. At Mycelia, we can facilitate your expedition. We can help you design: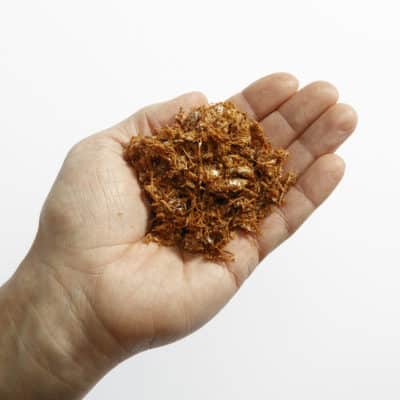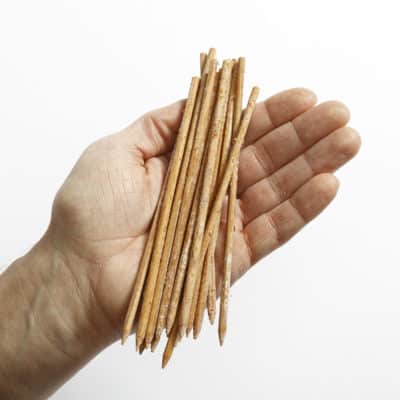 Case study: Beauveria bassiana
Green hills with grazing cows: they are the pride of the Swiss cultural heritage. But recently, many of these grasslands have been under attack from grubs. These underground critters feast on the roots of the plants, causing entire hillsides to slide down the slopes.
Solution: Busting the grubs
In association with Agroscope, a Swiss research institute, we have been developing a solution to fend off this pest: bulk quantities of Beauveria bassiana, an entomopathogenic fungus. We grow it on sterilised rye, it is made to sporulate intensely and finally it is spread over the threatened pastures. The result is phenomenal.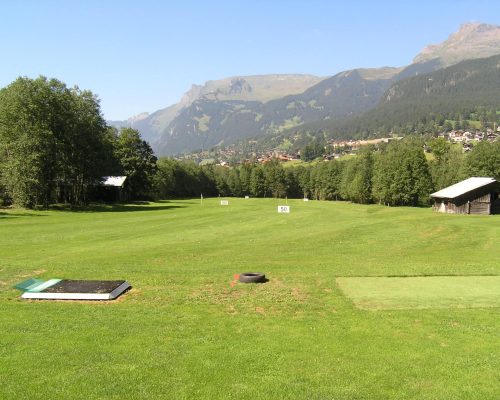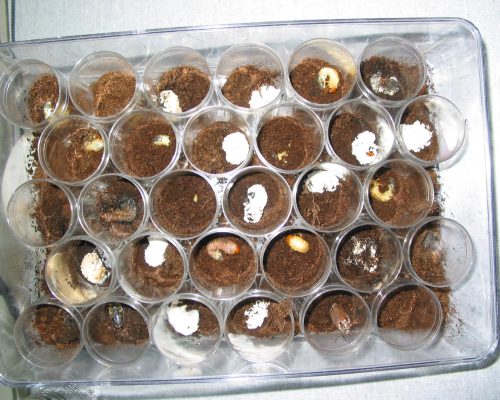 How does it work?
First, you need to select a strain. In the case of Beauveria bassiana, a yearly 'passage over the insect' is the key to success. Second, we design a highly performing recipe and for this fungus, sterilised rye proves to be an excellent carrier. Then, we produce bulk quantities, in our standardized setup.
Incubation takes place in our cleanrooms, in a fully controlled environment. Then, sporulation is induced. We can do this by using several parameters such as physical shock, light and temperature changes, but for this species the most important tool is slow desiccation. This causes the fungus to go in survival mode, the generative stage. 
Once this is done, the grains-spore mix is spread over the pasture using standard agricultural equipment, so there is no extra cost involved. Finally, let nature do the rest of the work for you. Every infected grub will increase the amount of Beauveria bassiana spores, which will spread in the environment and increase your protection against new infestations. A drastic solution which does not alter the natural balance!
Our extended R&D collection list
Our extended strain list includes a variety of strains with a greater research value than the current commercial value.
Trust us with your request and reap the benefits of 40 years of experience in product development. Ask for our extensive product portfolio: we can make R&D productions of 20 ml flasks up to 5000 kg of bulk fibre substrates.
If it is filamentous fungi, we can make it.
If you are looking for a solution for transforming concepts or ideas into products, contact us.